Luxury Car Wash "Floors it" with Flowcrete
The colourful resin floors convey the luxury car wash's distinctive style
Flowcrete South Africa's specialist solutions are ideal for withstanding the challenges of this busy car wash and café venue
06 Feb 2019
A unique car washing and leisure experience in Ballito has installed a bright and vibrant floor from Flowcrete South Africa that matches the site's energy and attention to detail.
Designed from the ground up by its owner, Machine WashWorx is a new venue that provides petrol heads with a relaxing space in which to enjoy a quality cup of coffee while waiting for their vehicle to be washed and detailed to the most exacting standard of car cleanliness.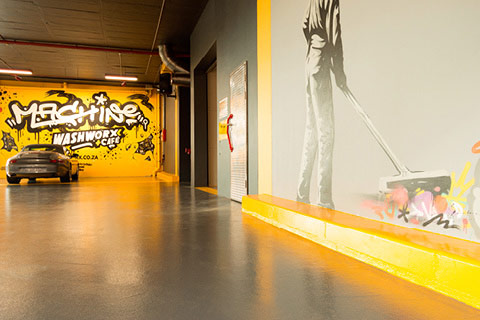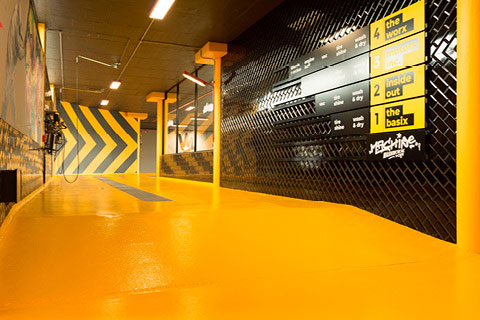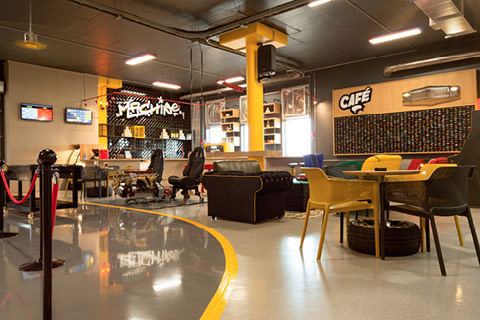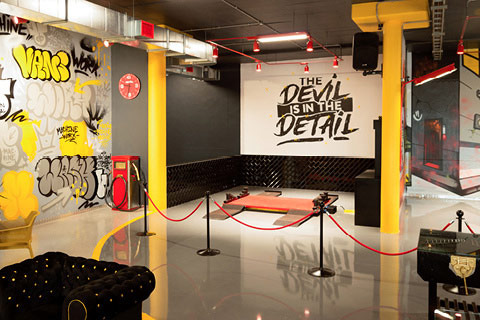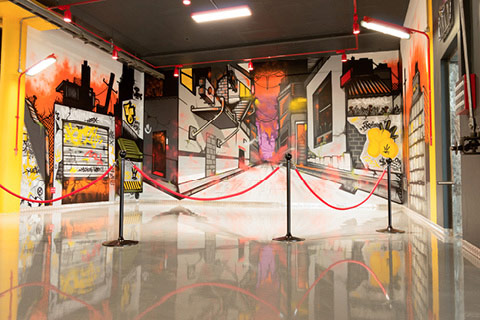 Flowcrete South Africa was tasked with providing a number of flooring solutions that would convey Machine WashWorx's distinctive branding while being able to withstand the water, cleaning chemicals, foot traffic, automotive oils, impacts and other challenges inherent to a car washing facility.
Craig Blitenthall, Vice President of Flowcrete South Africa, said: "Getting Machine WashWorx's floor just right presented us with a fun and challenging project. The bespoke, high-end environment that the client wanted to create called for floors that would convey their image while simultaneously supporting the site's demanding car cleaning activity.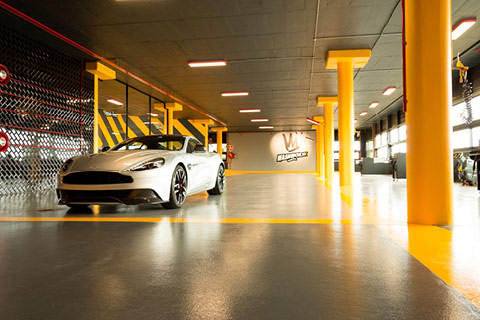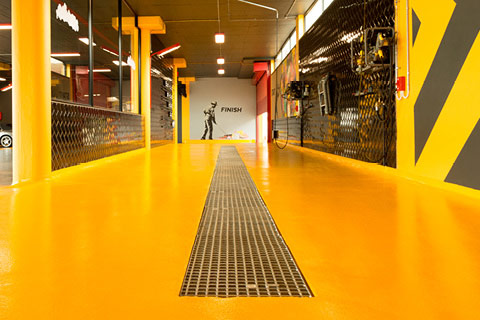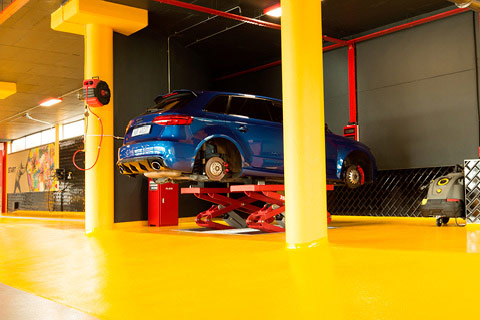 "Our resin flooring collection was perfect for this task, as each system has been made with the dual principles of design and durability at its core. This meant that Machine WashWorx could rest assured that the finish underfoot would provide a safe, clean and colourful surface to impress their high-end clients."
Machine WashWorx is no ordinary car wash, as its meticulousness sees cars roll through a custom cleaning area that not only includes a conveyor belt where the car is washed by hand but also specialist bays for vacuuming, polishing and even buffing the engine!
800 m2 of the flexible and solvent free polyurethane coating system Deckshield ID was applied across the car wash and parking areas. Originally designed to provide long lasting surfaces in large, multi-storey car parks, this was the ideal solution to cope with the onsite conditions.
The Deckshield ID was manufactured in a vivid yellow and urban light grey that exactly matched Machine WashWorx's corporate colours. This ensured that the floor mirrored the wall coatings and other key elements of the carefully considered, industrial-style interior design scheme.
To make sure that the site is safe for staff and visitors, extra slip resistance was added to the wash bay's ramps. Suede additive, a fine sand-like powder, was incorporated into the coating to enhance traction underfoot without creating an overly-rough effect.
In the adjacent coffee shop the floor also had to convey the same aesthetic while withstanding foot traffic and point loading from items such as heavy tables made from car engines. 120 m2 of the decorative epoxy coating Peran STB was installed to create a glossy, light grey floor area that would be both on-brand and easy to keep clean should any food or drink spill onto the floor.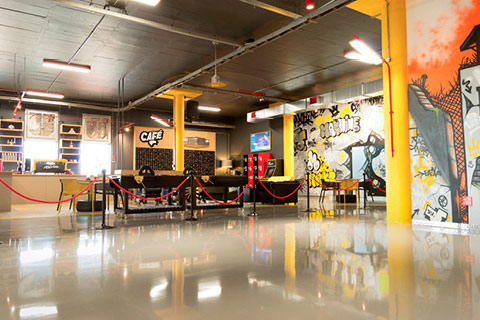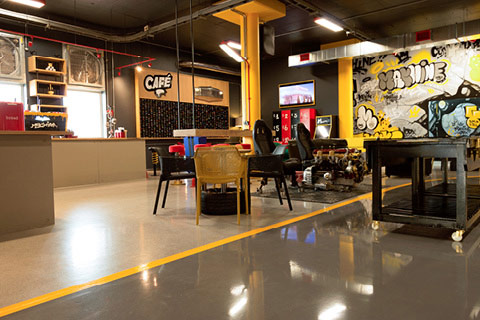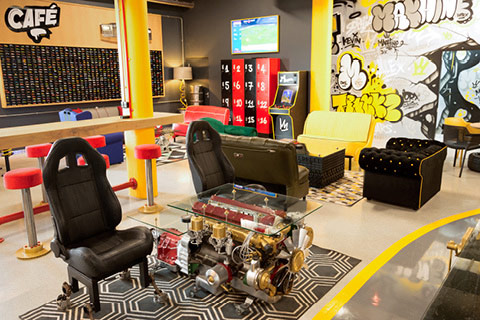 In Machine WashWorx's back of house storage area, 80 m2 of the hard wearing and self-smoothing epoxy system Flowshield SL was used to provide a reliable floor for an extended period of time.  
To find out more about how to create an attractive and long lasting floor area that's unique to a business, get in touch with Flowcrete South Africa's expert team today on saweb@flowcrete.com.
ENDS
Enjoy this post? Click below to share it with your network:
Press Contact
For Flowcrete South Africa's contact details please visit www.flowcretesa.co.za/contact-us or contact Daniel Ash at Flowcrete Group's Marketing department on +44 (0)1270 758 702 or email dan.ash@flowcrete.com.
Notes to Editors
Flowcrete South Africa has offices in Durban and Johannesburg and is one of the four divisions that make up Flowcrete Group Ltd.
Flowcrete Group Ltd. is a world leader in the manufacture of seamless industrial and commercial resin floor, wall and coving solutions as well as other specialist coating technologies. Flowcrete Group Ltd. has international manufacturing facilities in Europe and Africa as well as Central and South East Asia.
Flowcrete supplies world-class seamless flooring solutions to transform environments across the globe including; decorative seamless resins, waterproof car park deck coating systems, seamless resin terrazzo, durable antimicrobial flooring, fast curing systems, corrosion protection and self-levelling underlayments.
Flowcrete's ambitious and dedicated team is inspired by excellence in people, products and service, as well as continual innovation and sustainable growth. Flowcrete continues to use its global expertise to introduce environmentally friendly, hygienic and aesthetically attractive floors to create a better and more sustainable world.
For further information please contact +27 31 461 3411. 
Or visit us on the web at www.flowcretesa.co.za.